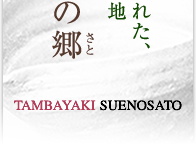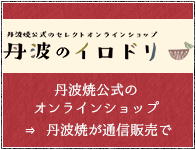 ●陶芸教室の料金を6/1より改定致します。詳しくは「陶芸教室」ページをご確認ください。
●第42回丹波焼陶器まつり 10/19(土)・10/20(日)開催致します。
●陶芸教室直通番号ご利用ください(TEL/FAX 079-506-6027)
●レストラン『獅子銀』定休日:毎週木曜日
Tanba-yaki
Tanba-yaki
The pottery made around Sasayama city and Konda town using the local clay is called ' Tanba-yaki'.
The Tanba -yaki pottery style is believed to have begun around 800 years ago, in the late Heian to early Kamakura periods, and it is counted as one of the six oldest Japanese kilns. In the beginning, "Ana-gama" hole kilns were used until the Momoyama period. "Nobori-gama" inclined kilns were then introduced from the Korean peninsula around 1610 and kick wheels were adopted at the same time. These traditional techniques have been passed down to the present day.
"Tanba Tachikui-yaki" was designated as a Traditional Craft Industry by the Japanese government in 1978.
The Six Oldest Pottery Styles of Japan
Among the numerous pottery regions of ancient Japan, these six styles have been continuously used without interruption from the medieval times up to this day: Seto, Echizen, Tokoname, Shigaraki, Tanba, and Bizen. Their histories span from several hundred to over a thousand years and therefore are different from the early-modern styles, which were based on techniques of the from visitors coming from the Korean peninsula and China .
In 2017, the six oldest Japanese kilns, including Tanba-yaki, were registered as Japanese Heritage.